WHEN IS A TON NOT A TON
Bagged Materials
WHEN IT'S IN A BAG!!!
Bagged Materials
—
When you contact most buildings supplies companies and ask for a "ton" of aggregate most will reply a bag will cost you £X.XX. They tend to avoid a direct answer because most bags are only guaranteed to hold a minimum of 850KG (some even less than this!!!). So if you calculate you need 10 tons and you are sold 10 bags you will be nearly 2 bags short of being able to complete your project.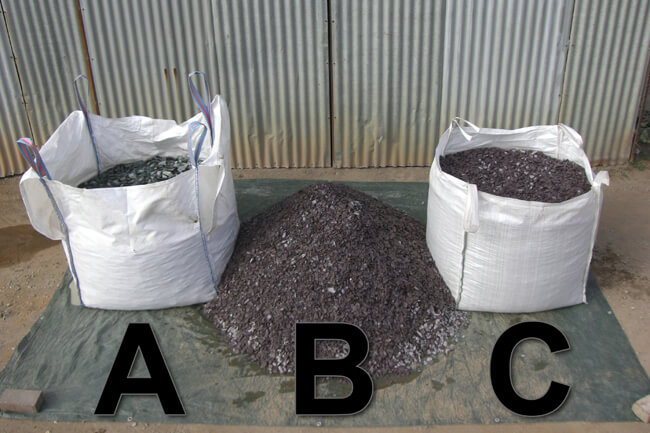 Which weighs the most? A, B, or C?
Both of the bags of aggregate weigh exactly the same, 850KG. The bags are just different sizes. The heap in the middle of the two bags weighs 1 Ton (1000KGs). It's not the way it's packaged that counts; it's the weight of the product that matters.
One of our competitors sell a bag of ballast for £38.00. This works out at a cost of £38 / 85 x 100 per ton = £44.70.
We sell a ton for £45 for the first one, a two ton will cost you £86, 3 tons £126; yet three tons from our competitor will cost you £152 as you would need to order 4 bags to have enough material to complete your project. A 10 ton load would cost you £360 from us, from our competitor it would cost £480 as you would need to order 12 bags to get your 10 tons.
THE MORE YOU ORDER THE CHEAPER IT GETS!!!
If a company is offering a bag of aggregate for £30 + vat this works out at a cost of
£30 / 85 x 100 + vat per ton = £35.29 + vat per ton
A total cost of £42.35 inc vat.
Check before you order!!!
Some will even add a delivery charge. Don't get a shock when it's delivered. Always ask for a delivery price.